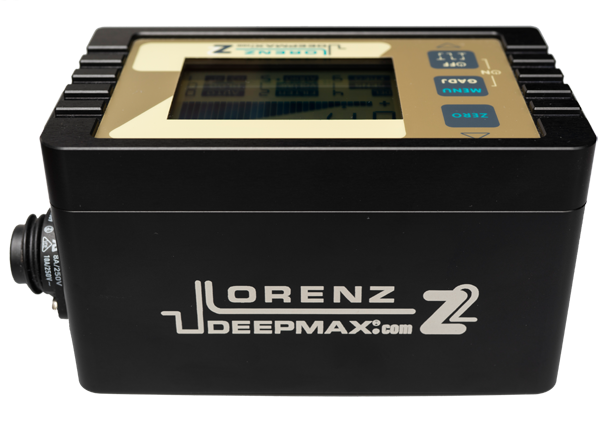 New compact and rugged design
Constructed designed and manufactured in Germany
Advanced power pulse technology
Multi channel data logger function
The LORENZ DEEPMAX Z2 is a complete new compact and rugged designed electronics device. Only the finest components have been used with this particular detector model. A control housing with anodized aluminium machined from a single piece of aluminium is in use. Latest controllers and analog to digital converters along with all new software solutions make the Z2 an outstanding device. The detection range for natural gold and other non ferrous metal objects has been greatly improved. A differential electromagnetic noise cancellation with new coil designs make this device very useful in areas where a lot of interferences from power lines are present. The complete transmitting and receiving circuitry was renewed in order to achieve even more stability and sensitivity.
This model offers a great range on non-ferrous metal objects in general. The built-in Pulse GBS (Ground Balancing System) is especially suitable for searching at depth. The operator can now choose from three different ground balancing facilities namely a preset, a two step automatic or manual one in order to cancel out the ground while offering stable signals from the metal objects.
The performance of this electronic device is almost unaffected by salt water, most types of magnetic soils or temperature changes.
An advanced power pulse technique PST (Pulse Shaping Technology) produces very accurate signals to obtain very high detection depths. The DEEPMAX Z2 is a reliable tool to locate even under the worst environmental conditions.
The complete power management with efficient low electromagnetic interference converters and low self discharge batteries makes this detector even more flexible for worldwide operation.
The LORENZ DEEPMAX Z2 is a high-quality specialist metal detector and it is designed to be used with both, small or large coils. Large coils offer extreme depth capabilities for big metal objects because of the strong and deep going magnetic field produced while small coils are preferably used when searching for small objects like single coins or gold nuggets.
Metal identification features have been improved as well as the coils and accessories in order to give better results in the field.
A very simple operation is guaranteed by a specially developed LC Display and a minimum amount of controls. At the same time this detector model offers a number of features which are new for a pulse metal detector.
STANDARD EQUIPMENT / ACCESSORIES
LORENZ DEEPMAX Z2
BASIC ELECTRONICS
WITHOUT SEARCH COILS: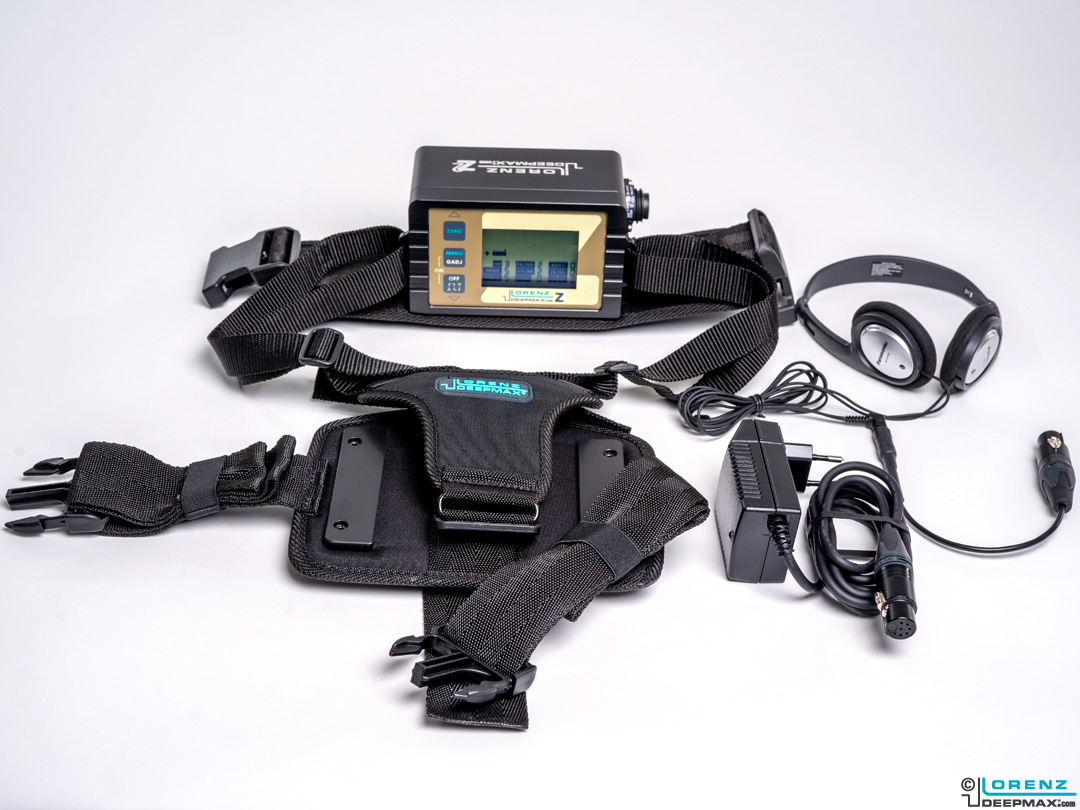 Includes:
LORENZ DEEPMAX Z2 electronics control box
Adjustable shoulder and belt strap
Fast charger with wide range 100-240 VAC input
Stereo headphones with adapter cable
Instruction manual English
To generate colour maps with the DEEPMAX Z2 built-in data logger function
the following accessories will be necessary in addition:
Computer with installed software
Surfer scientific mapping software (single user license) available directly at Golden Software (www.goldensoftware.com)
Lorenz Scripter latest version with complete installation instructions available for free download at Service-Page.
Z2 USB data transfer cable
Z2 Battery + GPS Module (Power Bank)
Function
The LORENZ DEEPMAX Z2 is based on the non-motion Pulse Ground Balancing System.
Search coils & accessories
Choose the right search coil for special search and location purposes.
Data Logger
Find out more about the very sophisticated multi channel data logger function.